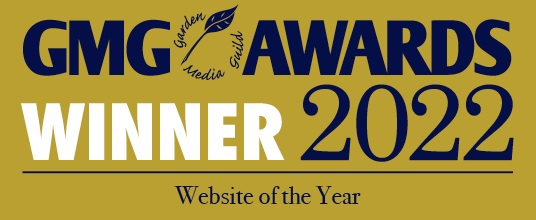 Welcome to Great British Gardens, for beautiful gardens to visit and places to stay nearby. We had a worldwide audience of around 550,000 and page views of 1.5 million a year. Please note we update opening times in Jan/Feb each year to ensure our information is as accurate as possible.
The guide was started by Garden Enthusiast Paul Leitch in 2002 with around 200 gardens, but since then more and more gardens have been asked to be included. There are now around 550 gardens on the guide.

PLEASE NOTE THAT WE ARE NOT ASSOCIATED IN ANY WAY WITH AN ORGANISATION WHICH CALLS ITSELF THE GREAT BRITISH GARDENS FESTIVAL


Awards and achievments.
2004 - Finalist Garden Media Guild - Website of the Year
2019 - Silver Gilt Medal for our 'Trail of Thoughts Garden' at RHS Tatton Show, designed by Nick Leitch and Pam Duffell
2019 - Finalist - Garden Media Guild - Socila Media Influencer of the Year
2020 - Finalist - Garden Media Guild - Gardening Website of the Year
2021 - Finalist - Garden Media Guild - Gardening Website of the Year
2022 - WINNER - Garden Media Guild Website of the Year

The Independent - Number 2 in Top Ten Gardening Websites
Good Web Guide - In Top Ten Best Sites for Inspiring Gardeners
The Times - Top 50 Gardening Websites
Serenta Plants - Best 10 Gardening Advice Websites
Gardens open to the public on a regular basis are invited to submit their details for consideration - there is an annual fee of £145 (no joining fee but we do ask for a return link from your website as this helps all the gardens on our guide). Our garden information is updated regularly. Gardens open for charity only are free. Telephone : 01666 825390 to be considered for inclusion or complete the online form on our advertise page.
We are pleased to support the National Gardens scheme by promoting many of their gardens free of charge.

Please note that our website uses cookies to make your browsing better by speeding up the loading of pages.

National Trust Gardens are indicated by NT.
Garden Opening Times - We update our opening times between February and March every year. If you are travelling long distances please check times with the gardens just in case changes are made by the owners.
Also a selection of photographs taken by Paul Leitch - Editor.
We are always seeking good garden information. To use any of our photographs please email info @greatbritishgardens.co.uk (re-type).
Help Desk
If you have any questions about gardens please post these on our Facebook page or telephone 01666 825390. You can also email us at info @ greatbritishgardens. co.uk (please retype).
Seasonal Guides
During the year we feature:
Winter Gardens
Daffodils
Family Friendly Gardens
Bluebells
Snowdrop Gardens
Rhododendron Gardens
Rose Gardens
Gardens for the whole family
Good accommodation, at reasonable prices has been included, and we welcome feedback to ensure we include only quality establishments in our guide.
Feedback
We are regularly recommended in the National Press and many media companies use as as a source of reference for garden programmes and films. Visit Britain also recommend our guide for people wanting to visit gardens in the UK and have a direct link to our pages.
A refreshingly simple to use guide

South West Tourism
Superb!

visitor from USA
I haven't honestly looked for any garden sites before today, but yours is really super!!

Sue Rogers
Thank you for a wonderful, informative site. I am a passionate gardener who has visited London several times, but has spent little time outside the city. This spring, I'll be exploring Cornwall and the Cotswolds, and your useful guide will help me choose the best gardens to see...

Anonymous Source
I just loved Sissinghurst Castle

Anonymous Source
Community Support
We are delighted to support the following Community Gardens:
TWIGS - Swindon
Redhall Walled Garden
Culpeper Community Garden
Copyright, Terms & Conditions
No part of this guide can be reproduced or copied without permission. The set out of the gardens and accommodation details are copyright.
All information and images are published in good faith and we take great care to ensure we do not breach copyright. Images - All images have been taken in good faith by the Editor, provided by the gardens, or used with the permission of the photographers concerned and are copyright. We do not pass on any images without first referring to the gardens or the photographers. If you have concerns re infringement of copyright please let me know.
Any enquiries please contact the Editor 01666 825390
We cannot accept any responsibility for any incorrect information. or difficulties that may arise although we welcome feedback.
The design and layout of this guide are the copyright of Web Publications Limited. To contact us email admin @webpublications.co.uk (please re-type) or telephone 01666 825390. Registered Office - Web Publications Ltd, Meadowside, The Street, Lea, Malmesbury, Wilts, SN16 9PA. Co. Reg. No - 3886782