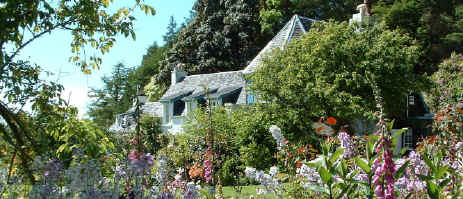 Thomas Hayton Mawson was born in Scorton, Lancashire into an impoverished family. These family circumstances forced the young Thomas to leave school at the age of twelve to earn his living. He started his career working for his uncle in Lancaster who was in the building trade but also had a very keen interest in gardening.
On the death of his father Thomas moved to London with his mother where he went into employment in the nursery trade. In due course he moved to Windermere in the Lake District , where with his two brothers, he set up a nursery business called Lakeland Nurseries. This venture proved to be extremely successful & so provided Thomas with the means to be able to concentrate on garden design.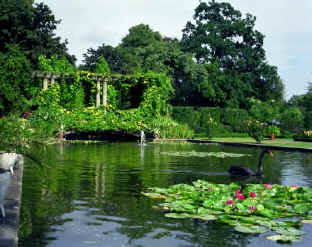 His design practice prospered due to a wealthy clientele brought to the area by the railways network & also to his obvious talent for design which blended architecture & planting.Thomas's prolific & successful career included commissions on Graythwaite Hall, Langdale Chase, Holehird, Brockhole Dyffryn Garden Holker Hall. He also designed the formal garden at Rydal Hall in 1909.
In 1901, Thomas published two comprehensive works called 'The Art and Craft of Garden Making' which is now regarded as the foundation of modern landscape architecture. They were reprinted five times by 1926 and it is these books which reveal Thomas's inspiration & gave a name to the style of work achieved by Edwin Lutyens & Gertrude Jeykll. One of his most famous gardens was at Rydal Hall.
Thomas's reputation grew with numerous commissions throughout Britain, although he still found time for local work, and also Europe & Canada. He designed the ' Palace of Peace ' gardens at the Hague in1908 after winning a competition. He was also involved in the development of the Smokey Mountains National Park in America.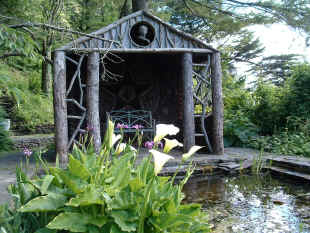 Thomas developed an interest in town planning & public parks and in 1923 became president of the Town & Planning Institute. In 1929 he also became the first president of the Institute of Landscape Architects which had just been formed. He was involved in many projects, one of them being Saffron Hill Cemetery, Leicester.
By the mid 1920's Thomas's eldest son Edward Prentice Mawson, was assuming control of his father's business (Thomas Mawson & Sons of Lancaster & Windermere) due to Thomas suffering increasingly from Parkinson's Disease and it is possible that this firm designed the Gardens at An Cala.
Thomas Mawson was a prolific & influential designer, a gentle man, a devout Christian all his life who in his writings, stressed the importance of gardens to the enrichment of the lives of all mankind.
Thomas died in November 1933 at Applegarth, Lancaster and is buried in Bowness Cemetery.