Garden Holidays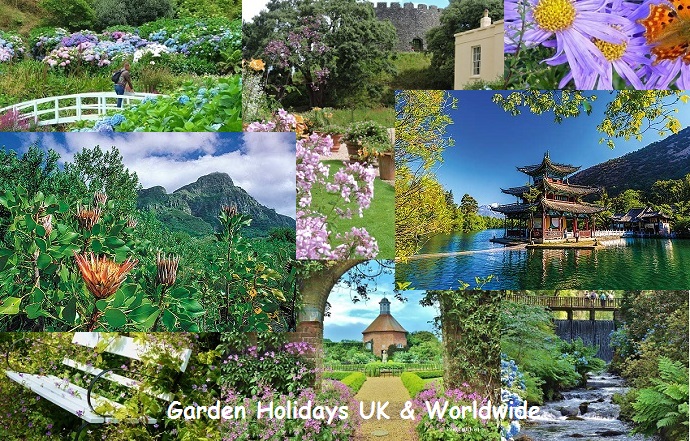 Request 2021 brochure

HAVE A WONDERFUL GARDEN HOLIDAY STAYING IN A HIDEAWAY COTTAGE.
You can still have a holiday in Britain visiting some of the finest gardens in Britain.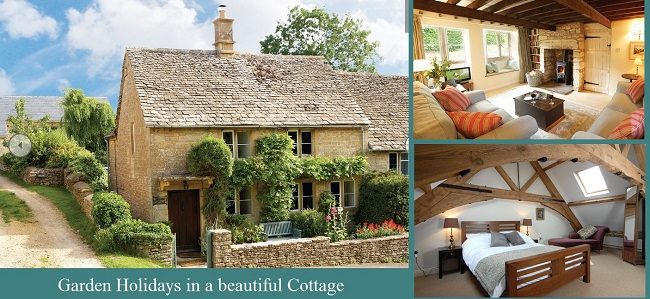 We have linked up with Hideaway Cottages who have an extensive portfolio of delightful properties. Each has been carefully chosen for its character, its beautifully restored interior and its stunning location by a team who really know the areas well.
Why not plan your holiday now using the links below.

Hideaway Cottages Norfolk
Hideaway Cottages Dorset
Hideaway Cottages Cotswolds
Hideaway Cottages Cornwall

We have a great range of guided garden holidays and tours both in the UK and Worldwide in our 2020/2021 brochure. It is hoped that later this year things will get back to normal.
request brochure

There are some really special garden tours which include New Zealand, Costa Rica, Chile plus the Falklands Islands and China.
We now also have a range of special interest holidays including archaeology tours with expert guides.

Featured Holiday this month is In the Footsteps of Gertrude Jekyll - a brilliant 5 day holiday.
Our tour stretches across the south of England: from the Home Counties of Kent, Sussex and Surrey – where she lived for most of her life — to the southern counties of England and into the scenic West Country. We visit Godalming's small museum, housed in a listed medieval building, which displays paintings, embroidery and architectural designs including work by Gertrude Jekyll and Sir Edwin Lutyens. Perhaps the true highlight of this holiday will be the rare chance to visit Munstead Wood. This was where Gertrude Jekyll lived until her death in 1932. 5 Days from £975.

STOP PRESS - 2020 Only - WAFA India 2020 - Held once every three years, the World Association of Flower Arrangers (WAFA) showpiece event has established itself as the premier event for anyone with an interest in flower arranging and floral art. Previous shows have been based in Dublin and Barbados and in 2020 it moves to the vibrant city of Jaipur in India, giving us the opportunity to combine our day at the show with visits to some of India's most iconic locations and sumptuous gardens. From £1995

Chelsea Flower Show and Classic Gardens of England 7 days from £1230
This tour combines the colour and excitement of the RHS Chelsea Flower Show with some of the south of England's finest gardens, affording the opportunity to enjoy a wide range of horticultural excellence.
Our two centre holiday includes visits to the RHS Chelsea Flower Show and the unmissable gardens of RHS Garden Wisley, Sissinghurst in Kent and Great Dixter. We then head west, breaking our journey at the beautiful gardens of Wilton House near Salisbury and 'Capability' Brown's famous landscape garden of Stourhead.
From our hotel in the West Country we visit the ancient Bishop's Palace in Wells, the Harold Peto designed garden at Iford Manor and Hestercombe, one of Gertrude Jekyll and Sir Edwin Lutyens' greatest masterpieces. We also have some time in the town of Bath, famous for its Roman baths and elegant Georgian terraces. We conclude with a wander round Tyntesfield, a fine National Trust Victorian country house with a glorious walled garden, before returning to London.

request brochure

We specialise in group holidays and can arrange and create holidays for your groups and societies - just indicate this on the brochure request form and we will work with you for a really special tour.

request brochure



SPECIALS

Chile: A Botanical Adventure
Gardens of Costa Rica
Gardens of New Zealand including Singapore
Japan - Seasonal Gardens
Galicia's Camellia Route

UK & Irish Tours
Tresco's Abbey Gardens - Scilly Isles
RHS Chatsworth Show and Gardens of Derbyshire
Gardens of the Far North
Arts and Gardens in Cornwall
RHS Chelsea Flower Show & Classic English Gardens
Cheshire & RHS Flower Show Tatton Park
Gardens of Dumfries and Galloway
Gardens of Kent & Sussex
Gardens of North Wales
Highgrove and the Cotswolds
Private Gardens of Herefordshire
Private Gardens of North Yorkshire
Gardens of Historic West Sussex
Gardens of the North of Ireland
Gardens of Dorset and Somerset
Gardens of Devon & Cornwall
Gardens of Norfolkand Suffolk
Legacy of Gertride Jekyll
Private Gardens of Sark & Guernsey
Scotlands finest Castles and Gardens
Gardens of Waterford and Cork
Secret Gardens of Northern Ireland
Secret Gardens of Aberdeenshire
Secret Gardens of Snowdonia
Charles Renie Mackintosh
Historic Houses and Gardens of Kent
Historic Houses and Gardens of Dorset
Historic Houses and Gardens of Norfolk
Historic Houses and Gardens in the North of England
Historic Houses and Gardens of Scotland
Downtown Abbey & England's Stately Homes



Overseas Garden Tours
Seasonal gardens of Japan
Picardy French Gardens Cruise
Gardens of the French Rivierra
Galicia's Cammelia Route
Gardens & Villas of Sicily
Dutch Bulbfields
Discover Corfu with Lee Durrel
Gardens and Architectureof Andalucia
Villas and Gardens ogf the Italian Lakes
Gardens of Copenhagen and Zealand
Malta: The Arts Society
Alpine Flowers of Wengen
Arts and Gardens of Florence and Tuscany
Gardens of Normandy
The Genius of Monet
Palladian Villas of Veneto
Rome, Ninfa & Castel Gandolfo


The Gardens of Costa Rica
Seasonal Gardens of Japan
Yunnon: Footsteps of the Plant Hunters
Gardens of Barbados
Gardens & Wildflowers of South Africa's Western Cape
Gardens of New Zealand
Honolulu Festival & Gardens of Hawaii
Florida: Epcot Garden Festival
The Faroe Islands

We also have a range of
Archaeology and Special Interest Tours
Scenic Scottish Holidays


We are an introducer for Brightwater Holidays Ltd, who we share your details with so that a brochure can be sent. Your details will not be passed to any other party.