Rosemary Verey was one of Britain's best known gardeners, admired by English and American gardeners alike. Rosemary a garden designer was also author of many books including, 'The Scented Garden', 'English Country Gardens', 'Garden Diary' and 'Making of a Garden'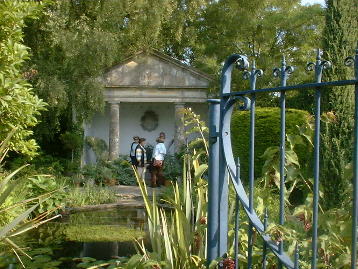 Whilst Rosemary ruminated about creating a garden, her husband invited the garden designer Percy Cane to view the site but Rosemary decided that she would design the garden herself rather than use professional help. Percy Cane's advice of including as many vistas as possible, using the longest distance, whatever the size of the site, was put to good use by Rosemary.
Without a master plan, as in her own words ' initially I knew very little about design'( Rosemary Verey's Making of a Garden ), the garden evolved slowly over the years, combining styles from the sixteenth and seventeenth centuries to create a garden in the English classical revival style. The result is a charming eclectic mixture of features and styles given vitality by Rosemary's bold approach. The garden includes well known features such as the laburnum walk, temple with its pool, the knot garden and the potager.
Rosemary Verey has done much to popularise the ornamental kitchen garden, encouraging gardeners to make a feature out of vegetable gardens rather than hide them away out of site.
Entirely self taught, Rosemary had a very good eye for colour, line, and textures. She toured extensively giving lectures, both here and in the U.S. where she was a frequent visitor and much in demand as a garden designer.
Rosemary Verey enjoyed a long client list, the most famous being HRH Prince Charles and Sir Elton John. Rosemary advised Prince Charles on his garden at Highgrove and designed gardens at Woodside, Sir Elton's estate.
Prince Charles has said " Mrs Verey makes gardening seem the easiest and most natural thing in the world".
A tour of British gardens would not be complete without a visit to Barnsley House. With the well known features, including the kitchen garden, are classical herbaceous borders, rose hedges and the planned vistas of the beautiful English countryside beyond.
Barnsley House is the epitome of an English country garden.