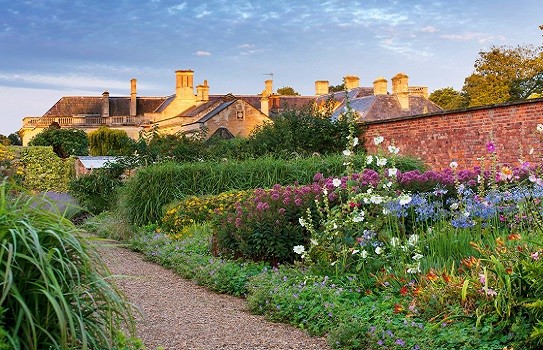 Lamport Hall & Gardens
Lamport Hall is set in tranquil gardens, enclosed by a spacious park.
Of the gardens laid out at Lamport Hall in 1655, by Gilbert Clarke, only the surrounding bank and large wrought iron gates still remain.
Sir Charles Isham the son of Mary Isham, inherited his mother's love of gardening. He is responsible for the present day appearance with a small Italian garden and the remarkable rockery. This is the earliest alpine garden in England, rising like a ruin 24 feet tall. Sir Charles peopled it with miniature figures, the world's first garden gnomes.
There is also a Walled 'cutting garden' Thought to be one of the largest cutting gardens in England, a vibrant array of colour and variety of plants are intersected by gravelled pathways. Hidden doors and relaxing benches are to be found.
Guided tours of this important historic house are available to see the important collection of furniture, books and paintings.
2020 Lamport Hall - Opening times

House Tours & Gardens - 18 March to 31 October.
Snowdrop Walks 15th & 23rd February
See website for days and times.
Disabled access. Refreshments available.
Address
Street: Lamport Hall Gardens
Postcode: NN6 9HD
City: Northampton
County: Northamptonshire
Country: United Kingdom
Contact
Telephone: 01604 686272
E-Mail:

This email address is being protected from spambots. You need JavaScript enabled to view it.

Website: Lamport Hall Gardens
Garden Location on a Map