Abbey House Manor Gardens, Malmesbury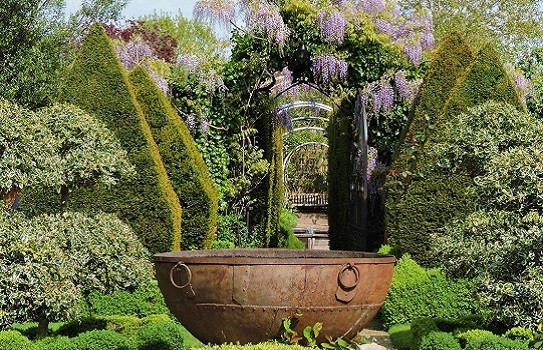 Abbey House Manor Gardens, Malmesbury
Abbey House Manor in Malmesbury was once part of the Benedictine Monastery founded about 666 AD.
HISTORY
The site for Abbey House Manor and its Garden was cultivated by monks for medicinal herbs and also as the Abbots garden. Since the dissolution by Henry V111 in 1539 the property been privately owned and over the past twenty years has been developed to become a garden delight to gardening lovers from all over the world.

WHAT TO SEE AT ABBEY HOUSE MANOR GARDENS

In the spring the borders are a mass of colours with thousands of tulips and daffodils.
There are 2,000 roses throughout the garden with many climbers, intermingling with foxgloves and other flowers.
To the front of the historic house you will see clever designs of topiary currently being renovated.
There is a covered walk with overhanging laburnum trees in late Spring.
Paths lead you down to the bottom garden where there are shade loving plants, specimen trees and shrubs. Walk along the river including St Aldhelm's Pool where you might be lucky to see Kingfishers and Yellow Wagtails.
Make sure you see Malmesbury Abbey where King Athelstan was buried which is only 200 yards away. An unforgettable afternoon.
2022 Now known as Abbey House Manor Gardens - open various days in Summer but please note that the gardens are undergoing restoration, some areas may be closed and images may not reflect present condition of gardens.
Disabled access upper parts, or with carer all of the garden.
Guided tours available.

How long should I allow for a visit.
Allow around 2 hours.

What are the garden highlights?
Tulips, roses, herbs and river walk.

Is Abbey House Garden National Trust?
No the garden is privately owned

Are there more open gardens nearby
Find more beautiful Gardens in Wiltshire

Visit other beautiful gardens in the Cotswolds

Address
Street: Abbey Manor House
Postcode: SN16 9AS
City: Malmesbury
County: Wiltshire
Country: United Kingdom
Garden Location on a Map