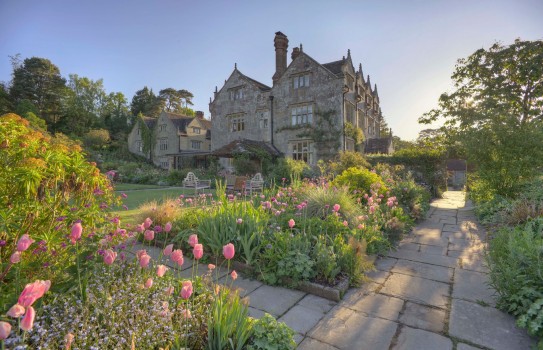 Gravetye Manor Garden, East Grinstead
The famous Garden at Gravetye Manor was created by William Robinson in the Arts and Crafts style.
The gardens at Gravetye are an especially unique feature of the manor and a piece of heritage of which we are very proud.
They were originally created by William Robinson in 1885 and are now considered one of the most important historic gardens in England.
Today Robinson is best known for his concept of the wild garden, creating a landscape that celebrates nature rather than controls it. He also introduced the idea of the modern mixed border and popularised common place items such as secateurs and hose pipes. In many ways Robinson created modern gardening as we know it.
Over time, Robinson ended up owning over 1000 acres of the surrounding landscape at Gravetye and used his estate to put his ideas into practice. At the heart of this, on 35 acres surrounding the manor, he created his masterpiece garden of which we are now custodians.

The garden is not open to the public, but is the special privilege of all guests dining in the restaurant or residents of the hotel.
The hotel is a really special place to stay and eat - see website for details.
Contact
Telephone: 01342 810567
E-Mail:

This email address is being protected from spambots. You need JavaScript enabled to view it.

Website: Gravetye Manor
Address
Street: Gravetye Manor, Vowells Lane
Postcode: RH19 4LJ
City: East Grinstead
County: Sussex
HOTELS AND PLACES TO STAY NEAR TO GARDEN
Why not stay at the Gravetye Manor Hotel for a break of a lifetime.
Garden Location on a Map