Seasonal

St Andrews Botanic Garden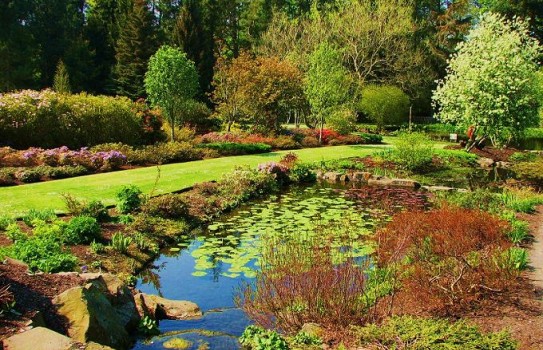 St Andrews Botanic Garden
St Andrews Botanic Garden covers 18 acres and has a great collection of plants, trees and shrubs.
St Andrews Botanical Garden is a really special place for garden lovers.

HISTORY - The Original Botanic Garden was founded by the University of St. Andrews in 1889 in the precincts of St. Mary's College. Originally a small garden, laid out according to the Bentham and Hooker plant classification, but it now covers 17 acres.

What can we find to see in the Garden?
There is a great with many different plantings including alpines leading to a Water Garden. The sound of water splashing on the rocks adds a sensual dimension to this area as well as providing a range of habitats.
The Water Garden comprises a series of falls, pools and ponds starting in the rock garden.
Mixtures of ornamental and bulbous plants vie with species of Salvia, Geranium, Sidalcea, Paeonia, Aster, Delphinium, and Gillenia, to name but a few.
The China Border contains the bulk of the woody material collected by the 1981 Sino-British Expedition.
A series of 7 Greenhouses which display plants from all over the world including tropical and temperate sections.
In Autumn there are lovely colours throughout the garden.
St Andrews Botanic Garden: Opening Times - click here

FAQS
Is St Andrews Garden National Trust?
No
Is the garden dog friendly?
Regret dogs are not allowed
When is the best time to visit?
There is all year interest but we recommend April until October
Are there places to stay near the Garden?
We have a selection of guest houses, cottages and hotels listed below


Contact
Telephone: 01334 476452
E-Mail:

This email address is being protected from spambots. You need JavaScript enabled to view it.

Website: St Andrews Botanic Garden
Address
Street: St Andrew's Botanic Garden, Canongate
Postcode: KY16 8RT
City: St Andrews
County: Fife
Country: United Kingdom
HOTELS AND PLACES TO STAY NEAR TO GARDEN
If you want to take a break St Andrews Botanic Garden, why not stay in one of our recommended hotels or places to stay. Look now - click here.
Garden Location on a Map