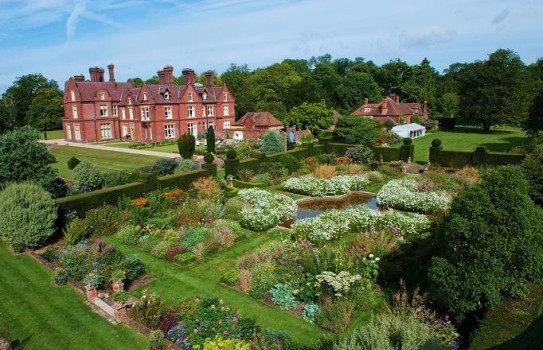 Doddington Place Garden, near Sittingbourne
With a tea room serving delicious home made cakes, scones and lunches, and special events throughout the year, Doddington Place Gardens is well worth a visit.
The Gardens at Doddington Place were originally designed by Markham Nesfield, father of the famous designer William Nesfield, and consist of 10 acres of beautiful landscaped gardens - a perfect place to enjoy a relaxing day.
With a notable woodland garden which is spectacular in May and June, bursting with colour from azaleas and rhododendrons, an Edwardian rock garden and sunken garden, there is plenty to see and enjoy. The rock garden has been completely restored and retains its original Edwardian framework
Extensive lawns and avenues are framed by impressive clipped yew hedges and fine trees add interest. The yews were planted by Maude Jeffreys (nee Oldfield) before the First World War. They are now one of the most memorable features of the gardens and have evolved into giant mounds like a range of cumulus clouds.
The garden has featured in numerous magazine and newspaper articles and twice on TV in Country Ways.
2020 What are Doddington Place Gardens Opening Times?
Easter Day until the end of September.
Wednesday – 11am – 5pm
Sunday – 11am – 5pm
Bank Holidays – 11am – 5pm
BUT PLEASE CHECK GARDEN'S OWN WEBSITE BEFORE VISITING
23rd February for the Snowdrop Festival 11am-4pm
Group visits also on other days by prior arrangement.
Coaches by appointment.
Free car parking.
Disabled access, groups welcome by appointment on additional days.

Are Doddington Place Gardens Dog Friendly?
Yes on leads
Where can we stay near Doddington Place Gardens?
We feature hotels and places to stay nearby
Is Doddington Place National Trust?
No it is privately owned.

Address
Street: Doddington Place Gardens
Postcode: ME9 0BB
City: Sittingbourne
County: Kent
Country: United Kingdom
Contact
Telephone: 01795 886101
E-Mail:

This email address is being protected from spambots. You need JavaScript enabled to view it.

Website: Doddington Place Gardens
Garden Location on a Map