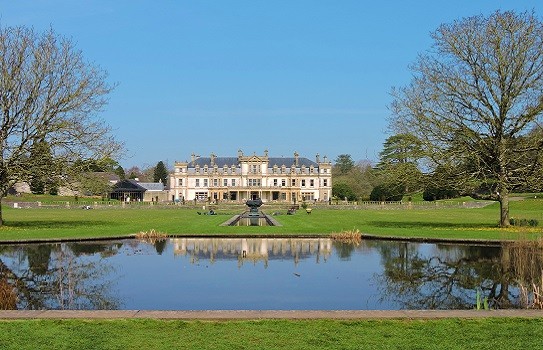 Dyffryn Garden, Cardiff
The amazing Dyffryn Gardens - one of the largest restorations of the 21 Century - originally designed by Thomas Mawson
Dyffryn Gardens near Cardiff is one of the largest UK Garden restorations of the 21 Century. The Edwardian Gardens restoration is being undertaken by the National Trust. Much of the restoration has been completed but there are several areas which will be worked on over the next few years.

The Estate was sold to a coal magnate in 1891 who in 1903 commissioned the famous Garden designer Thomas Mawson to create a garden on a great scale, a combination of landscape style, plus Garden Rooms in the Arts and Crafts Style. The historic Mansion is now open.

Thomas Mawson loved including water features in his gardens, and included several including a stream at the far end of the Garden which is yet to be restored. He also worked with the Pulham Rock Company and some of the features may have included this artificially made rock.

What to see at Dyffryrn Gardens
The South Lawn with with its Great Lawn and Canal covered with water lilies.
The Western Gardens planted with herbaceous borders.
The Garden Rooms includingThe Pompeiian Garden, The Paved Court and Reflecting Pool, The Cloisters and Theatre Garden, The Rose Garden, The Lavender Court.
The Fernery and Rock Garden
The Arboretum with manyunusual trees sourced from around the world
The Walled Kitchen Garden including Greenhouses.
There is something to see in every season at Dyffryn with great drifts of daffodils, rhododendrons, magnolias and camellias, followed by summer colour from the flower gardens. In October and November there are beautiful Autumn colours around the garden.

2022 - Dyffryn Opening times and further information on garden click here.
Contact
Telephone: (029) 205 93328
E-Mail:

This email address is being protected from spambots. You need JavaScript enabled to view it.

Website: Dyffryn Garden
Address
Street: Dyffryn Gardens St Nicholas
Postcode: CF5 6FZ.
City: Cardiff
County: Glamorgan
Country: United Kingdom
HOTELS AND PLACES TO STAY NEAR TO GARDEN
If you want to take a break near Dyffryn Garden, why not stay in one of our recommended hotels. Each hotel has genuine guest reviews enabling you to book from anywhere in the world in total confidence. Look now - click here.
Garden Location on a Map