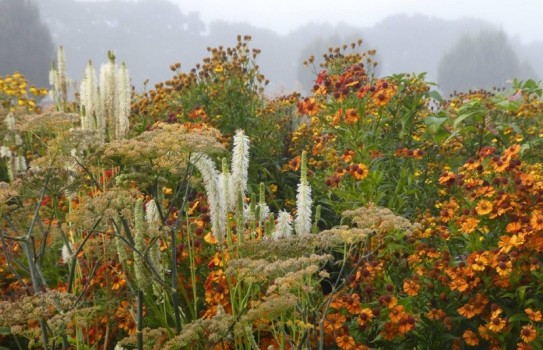 Sussex Prairies Garden
Sussex Prairie Garden of approx 6 acres planted in a naturalistic style using 30,000 plants of 600 different varieties.
Sussex Prairie Garden features a huge variety of ornamental grasses. Expect layers of colour, texture and architectural splendour. It is surrounded by mature oak trees with views of Chanctonbury Ring and the South Downs.
You can walk amongst the borders and get close to the plants which are designed in semi circles.
There are 2 naturalistic pools with bullreeds on one side and as you can imagine they are a magnet to all types of wildlife including bees, butterflies, hedgehogs, and toads.
The plants and their seeds are left for the birds until the end of February when the borders are set on fire and the process begins again.
There is also an interesting collection of sculptures.
Featured on BBC Gardeners World and widely published in the horticultural press. Sussex Prairies Garden is home to an Annual Unusual Plant and Art fair in September.
If you like 'naturalistic planting' this garden is for you.
Sussex Prairies: Opening Times - see latest information by visiting website. Normally open from early June - see website for details. Woodchip paths may be difficult for wheelchairs or mobility scooters.
Contact
Telephone: 01273 495902
E-Mail:

This email address is being protected from spambots. You need JavaScript enabled to view it.

Website: Sussex Priairie Garden
Address
Street: Morlands Farm, Wheatsheaf Road
Postcode: BN5 9AT
City: Henfield
County: Sussex
Country: United Kingdom
HOTELS AND PLACES TO STAY NEAR TO GARDEN
If you want to stay near Sussex Prairies Garden, Brighton, why not stay in one of our recommended hotels. Look now for Sussex Prairies Hotels
Garden Location on a Map