Sulgrave Manor and Garden, Banbury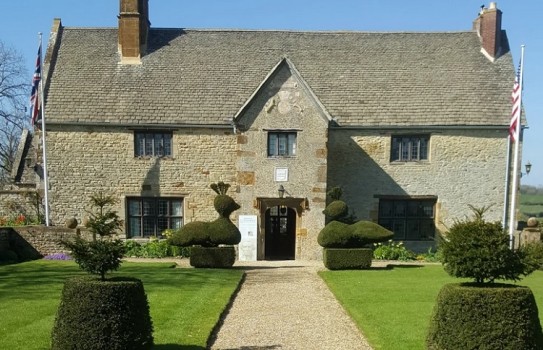 Sulgrave Manor and Garden, Banbury
Explore formal arts and craft style gardens laid out in the 1920's by Reginald Blomfield
Sulgrave Manor is home to an accredited museum collection and is open to the public during our open Season from April to September. Within the Manor we share stories about Sulgrave Manor and its owners .

The Garden - Explore formal arts and craft style gardens laid out in the 1920's by Reginald Blomfield, including fine lawns, attractive herbaceous and mixed borders with informal cottage style planting, a romantic wildflower orchard with historic fruit trees, herb garden, topiary, a tudor vegetable garden and family area all set amongst a beautiful and tranquil rural landscape.
The Restoration. This is possible thanks to some of the most influential people on both sides of the Atlantic who funded the restoration of Sulgrave Manor, the home of George Washington's English ancestors, as part of the centenary commemorations for the Treaty of Ghent which established peace between Britain and the United States of America after the War of 1812.
Once purchased the restoration was delayed by the outbreak of the First World War, and Sulgrave Manor finally opened to the public on 21 June 1921. In the same year, Sulgrave Manor Board (now Sulgrave Manor Trust) was established to preserve Sulgrave Manor for the public benefit and promote its historic and symbolic role in Anglo-American relations.
Today Sulgrave Manor is an independent charity, existing entirely through the generosity of our donors, supporters and visitors.

2022 - Sulgrave Manor Opening Times and information - click here

FAQS
Is Sulgrave Manor National Trust?
No
Can we have our wedding at Sulgrave Manor?
We would be delighted to discuss your requirements
Where can we stay near Sulgrave Manor?
We list recommended hotels and placesto stay nearby
Is Sulgrave Manor suitable for School Trips?
It is a great place to visit with Key Stage 2 programmes


Contact
Telephone: +44 (0)1295 760205
E-Mail:

This email address is being protected from spambots. You need JavaScript enabled to view it.

Website: Sulgrave Manor Garden
Address
Street: Manor Road
Postcode: OX17 2SD
City: Sulgrave
County: Oxfordshire
HOTELS AND PLACES TO STAY NEAR TO GARDEN
If you want to take a break near Sulgrave Manor, why not stay in one of our recommended hotels. Look now - click here.
Garden Location on a Map